As long as I can remember, I've been interested and intrigued with metals and metalworking. The love affair began at my grandfather's farm. I watched my beloved grandfather do repairs around the farm and carve wood. The tools here stylized, ornate and highly decorated by skilled craftsmen of the time, as much a labor of love for the craftsmen as those who used the tools in their daily chores.
I naturally began cleaning up the old tools at the age of 8. I would take them apart, reassemble them and then learn how to mold raw materials into original creations.
Alan Folts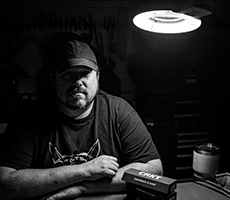 "We want you ready to identify quality craftsmanship from the more run-of-the-mill blades on the market today"

Style, personal touch and quality work. My wife and I carry knives by Alan Folts everyday for both general use and sometimes for the raw beauty of the blade. We trust his work to prepare food for our family in the kitchen, too.
Alan Folts is a superb knifemaker. I have been carrying a knife made by Alan on me daily for years. He cares not only about the fit and finish of a knife, but more importantly the usability and practicality of a design. I have an entire collection of knives by Alan and each knife gets used differently for different purposes. As a retired law enforcement officer, I relied on Alan's knives both on and off duty. I still carry the same tanto Minimalist, daily, that I did when I worked and as an avid outdoorsman I carry a spear point Minimalist. The knives Alan makes perform superbly and can be counted on in conditions where your life depends on it.